Post by bluefedish on Feb 5, 2008 16:19:59 GMT -5
Chia Goddess
From the chibcha language "the one who is like the moon", is according to Precolumbian Colombian mythology a triple goddess who received worship as one of the most important deities in the culture.
Chia was the head deity of the Zipa ruler, who governed the territory of what is now Bogota, and her ceremonial center was located in the area of the actual city of Chia, Cundinamarca, which is named after the goddess.
The Chyquys, or priests of the sacred calendar, were in charge of the ceremonies dedicated to the goddess, which included offerings of gold and ceramic artowrk.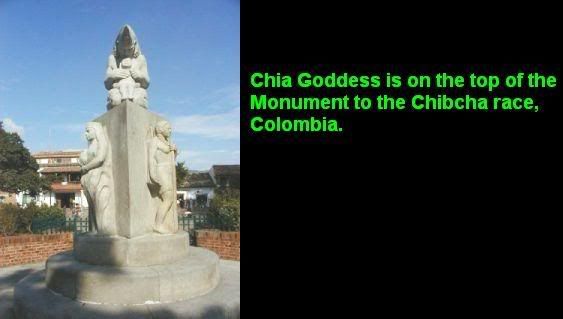 Selected Source:
en.wikipedia.org/wiki/Ch%C3%ADa_%28goddess%29
Mami Wata Goddess
Is a pantheon of water spirits or deities worshiped in West, Central, and Southern Africa, and in the African diaspora in the Caribbean and parts of North and South America.
Appearance
Some initiates and devotees have reported to anthropologists that Mami Wata is usually described in excesses. She possesses an inhuman beauty, unnaturally long hair, and a lighter-than-normal complexion. Some report that her hair texture ranges from straight, curly to kinky, and either black or blonde, and combed straight back. Her lustrous eyes gaze enticingly, which only enhances her ethereal beauty. In many parts of West and Central Africa, "Mami Wata" thus serves as a slang term for a gorgeous woman.
In more ancient text Mami Wata is often described as a mermaid-like figure, with a woman's upper body (often nude), and the hindquarters of a fish or serpent. In other tales, she is fully humanoid (though never human). During anthropologist, Mary Bastian (1987-88), field research in Nigeria on the Onitsha Market System, it was reported to her that Mami Wata is female, and that she flaunts her unimaginable wealth with jewelry that blinds those who view it. Bastian also believes that in both mermain and humanoid form, Mami Wata often carries enormously expensive baubles such as combs, mirrors, and watches. A large snake (symbol of divination and divinity in many African cultures) frequently accompanies her, wrapping itself around her and laying its head between her breasts. Other times, she may try to pass as completely human, wandering busy markets or patronising bars. She may also manifest in a number of other forms, including as a man.
Mami Wata is represented in many different African religious systems, such as the Vodou in Togo and Benin, and Southern Ghana, where there exists an actual consecrated body of lineal priests and priestesses of the Ewe, Anlo-Ewe, Mina, Kabye and other African ethnic groups, whose worship of these ancient deities predates their arrival in their present locations. In the Yoruba tradition, the mother goddess Yemaja has been recently associated with Mami Wata in popular culture. Africans Slaves from what has been notoriously referred to as the Slave Coast, brought their water-spirit beliefs with them to the New World, and traders in the 20th century carried similar beliefs with them from Senegal to as far as Zambia. As the Mami Wata traditions continues to re-emerge, native water deities were subsumed into it. In addition, Africans may sometiems call non-Mami Wata figures by that name when speaking to foreigners, as they know that Mami Wata is better known than local spirits and deities.
According to Bastian and German photographer, Van Stiptiaan, as their name would imply, the Mami Wata deities are closely associated with water. Traditions on both sides of the Atlantic tell of the spirit abducting her followers or random people whilst they are swimming or boating. She brings them to her paradisiacal realm, which may be underwater, in the spirit world, or both. The captives' release often hinges on some sort of demand, ranging from sexual fidelity to the spirit to something as simple as a promise that they do not eat fish. Should she allow them to leave, the travellers usually returns in dry clothing and with a new spiritual understanding reflected in their gaze. These returnees often grow wealthier, more attractive, and more easygoing after the encounter.
Van Stipriaan further reports that other tales describe river travellers (usually men) chancing upon the spirit. She is inevitably grooming herself, combing her hair, and peering at herself in a mirror. Upon noticing the intruder, she flees into the water and leaves her possessions behind. The traveller then takes the invaluable items. Later, Mami Wata appears to the thief in his dreams to demand the return of her things. Should he agree, she further demands a promise from him to be sexually faithful to her. Agreement grants the person riches; refusal to return the possessions or to be faithful brings the man ill fortune.
In parts of the Caribbean, in contrast, meeting with the water spirit prompts the mortal to flee, not the spirit. In the folklore of Trinidad and Tobago, for example (where she is called Maman Dlo), one can escape the deity by removing his left shoe, laying it upside down on the ground, and then running home backwards.
Religious Tradition
The Mami Wata tradition is strongly associated with all matters involving spirit and psychic phenomena, including divination and spiritual healing. Worship practices for these deities vary, but in some branches of the tradition depending on the deity, it might involve for some initiates of wearing the colors red and white (sacred to some Mami Wata's deities) and dancing until seized by their particular Mami Wata deity, popularly known as spiritual possession.
According to Bastian, Mami Wata's association with sex and lust is somewhat paradoxically linked to one with fidelity as well. According to a Nigerian tradition, male followers may encounter the spirit in the guise of a beautiful, sexually promiscuous woman, such as a prostitute. Should the man have sex with her, he often contracts venereal disease (this leads to the African slang term mami wata for prostitutes). In Nigerian popular stories, Mami Wata may seduce a favoured male devotee and then show herself to him following coitus. She then demands his complete sexual faithfulness and secrecy about the matter. Acceptance means wealth and fortune; rejection spells the ruin of his family, finances, and job.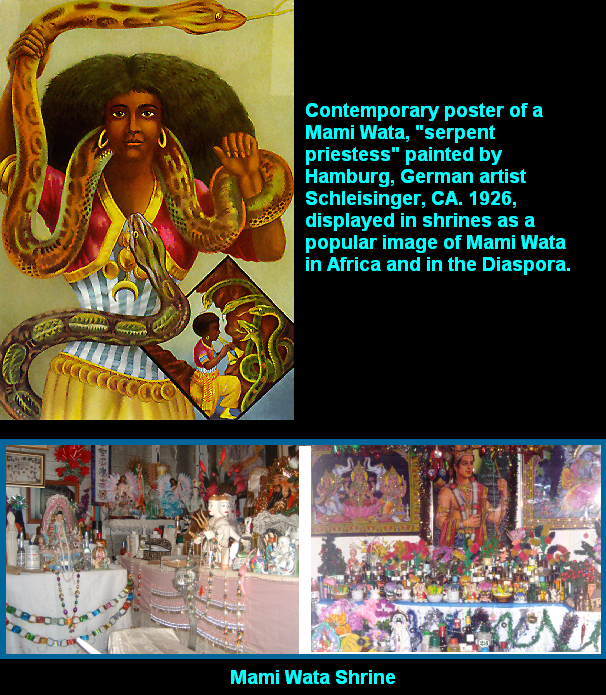 Selected Source:
en.wikipedia.org/wiki/Mami_Wata